Text "RICKEY" to 71007 to join the Rickey Smiley Morning Show mobile club for exclusive news. (Terms and conditions).
Follow @TheRSMS
Bondsman and brand ambassador Eliza Reign posted to IG saying she is one of the latest to be pregnant by rapper Future. At this point the "pull out" game of Nayvadius DeMun Wilburnis weak as hell.
Sign Up For Our Newsletter!
The Instagram model Eliza Reign took to IG to post how the rapper treated her when he found out she was with child. Saying, "I've done my share of attention seeking things."
"I'm far from an angel, I feel that no woman should have to endure the type of mental abuse and stress I've encountered behind this pregnancy", she said. Eliza goes on to say how the two have been off and on for 2 years. She claims, they were really good friends, and he actually gave her good business advice.
Eliza goes on to say she respected him, despite the "ongoing baby mama drama in the blogs".
According to Eliza, Future wasn't too happy to find out about the baby. She said he suggested an abortion saying, "I gotcha. Let me know when it's done." She took that as, he'd pay for it, and that's when she knew the type of "savage" he really was.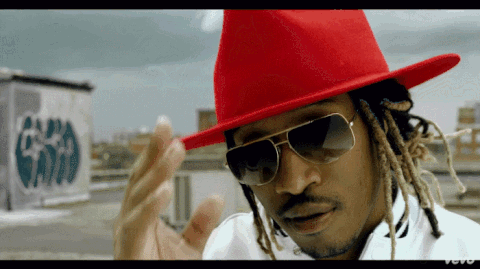 The Instagram self-acclaimed "Haitian Goddess" says she was talked out of the abortion when she met with the doctor. She apparently is mid 30's and a high risk. Which is true, the damage done by abortions and her age make it highly unlikely for her to have a baby if she wanted to, with a man that actually cares.
She says that when explaining to Future that she wasn't going through with the abortion, "he went ballistic!"
Eliza said Future had some of his camp intimidate her on her job as if she set him up. She claims the two had sex unprotected for years, and thanks God that she's STD free.
After a heated argument between the two, she said she got a call informing her to "be careful." She went on to say how after sending him updates of the sonogram, the rapper blocked her.
Through an unnamed industry person, she says "Future got ppl looking for this Haitian girl in Miami that's supposedly pregnant by him and he's madddddd."
With the threat on her head, she claims to be living in fear for her life, expressing "I'm in total shock. Scared for myself, my unborn child, and my family! Never thought that a person with five baby mamas would want the 6th one dead."
ALSO TRENDING ON RICKEYSMILEYMORNINGSHOW.COM:
Follow @TheRSMS
https://www.instagram.com/p/Bqlgd48F7Yh/
Woman Claims She's Pregnant With Future's Sixth Child & That He's Trying To Have Her Killed For It  was originally published on hiphopnc.com