From Starbucks to Applebee's to IHOP, getting fair customer service can sometimes be impossible when you are Black. This was the case for Canita Adams and Chikesia Celmons at a Waffle House in Saraland, Alabama.
Early morning on Sunday, April 22, 25-year-old  Chikesia Celmons was arrested by white police officers. The arrested was captured on the video, which is extremely graphic. Three officers slam her to the floor, exposes her breasts and one officer threatens to break her arm. Watch the video below:
According to Canita Adams' Facebook page, the incident happened after the white woman who took their order said there would be a charge of 50 cents for plastic utensils. Allegedly, Canita and Chikesia were there the day before and there wasn't charge for plastic utensils. They canceled their order, Canita left and Chikesia stayed behind because she wanted a business card but the woman called the police. See the Facebook post below: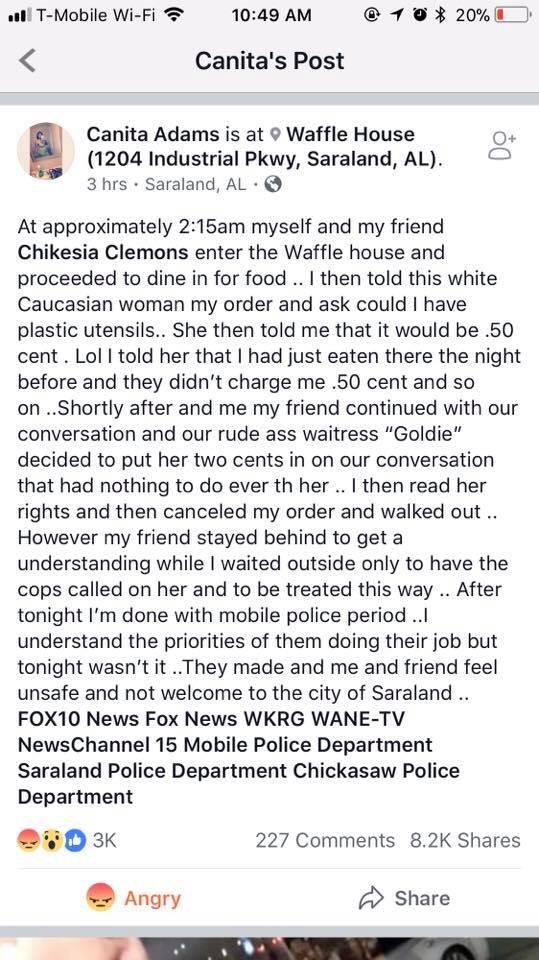 Waffle House responded to the incident by telling AL.com, "[I]t's fair to say that the information we have received at this point differs significantly from what has reportedly been attributed to Ms. Clemons and strongly supports the actions taken by the Saraland Police Department. The Saraland Police Department is conducting its own investigation and we encourage you to contact them for additional information." Yep, you read that right "strongly supports." Sounds like Waffle House might need the Starbucks treatment.
Chikesia Clemons  was booked on charges of disorderly conduct and resisting arrest. She was released on $1,000 bond Sunday morning.  Mobile NAACP President David Smith said in a statement, "In light of the current situation in our country — such as the arrest of two young Black men at a Philadelphia Starbucks coffee shop — we felt it was important for our members to get a first-hand account of the incident, which has now gone viral on social media locally and across the country. When incidents like this happen in our own backyard, it is incumbent upon the local  NAACP to take a closer look and move the matter to whatever level is appropriate." The NAACP will reportedly be meeting with the Canita and Chikesia.
As we know, people of color are big supporters of Waffle House, as consumers, we truly need to consider where we spend our money — especially when Waffle House is so quick to "strongly support" the officers. In addition, how ironic that this incident goes viral on Alabama's Confederate Memorial Day, which celebrates the racists who wanted to dismantle the country. Stay woke.
The Latest:
Meet All The Black People Competing In The 2018 Winter Olympics
1. Aja Evans, Team USA
Source:Getty
1 of 14
2. Elana Meyers Taylor, Team USA
Source:Getty
2 of 14
3. Hakeem Abdul-Saboor, Team USA
Source:
3 of 14
4. Chris Kinney, Team USA
Source:
4 of 14
5. Jordan Greenway, Team USA
Source:Getty
5 of 14
6. Erin Jackson, Team USA
Source:Getty
6 of 14
7. Shani Davis, Team USA
Source:Getty
7 of 14
8. Maame Biney, Team USA
Source:Getty
8 of 14
9. Kimani Griffin, Team USA
Source:Getty
9 of 14
10. Shannon-Ogbani Abeda, Eritrea
Source:
10 of 14
11. Sabrina Wanjiku, Kenya
Source:
11 of 14
12. Jazmine Fenlator-Victorian and Carrie Russell, Jamaica
Source:Getty
12 of 14
13. Audra Segree, Jamaica
Source:
13 of 14
14. Akwasi Frimpong, Ghana
Source:
14 of 14
SEE ALSO:
Forgive But Don't Forget: Remembering Those Times When Barbara Bush Waded Into The Waters Of Race
Billy Graham's Complicated Relationship With Black America, Explained
Woman Shouts N-Word, Literally Stops The Show At 'Black Panther' NJ Screening
Black Woman Violently Arrested At Waffle House [VIDEO]  was originally published on newsone.com
More From Rickey Smiley Show