Let's just be clear, Insecure is EVERYTHING! If you are one of the few who hasn't checked out this brilliant HBO comedy series from the ridiculously talented Issa Rae, then we hope you're binge-watching ahead of tonight's premiere. This show is so relatable, so well written, so realistically acted and so damn funny, that you will easily find yourself rewinding scenes to catch the quotable gems the second time around.
Sign Up For Our Newsletter!
Whether it's Issa and her best friend Molly talking (or fighting) about relationships, Issa's constant relationship rollercoaster with longtime boyfriend Lawrence and high school crush Daniel, or Issa dealing with the inner-workings of office politics at her non-profit job, there are so many funny, real and unforgettable moments from the series so far. With only eight episodes it's easier to pull out some of the best quotes from the series, those that are made to be memes, GIFs and social media statuses. So check out our take on the best quotes…so far!
Episode 1 – 'Insecure As F**k': In the very first scene, in the very first episode of Insecure, we know exactly who Issa Dee is and what she stands for as a black woman. While giving a presentation to middle-schoolers on behalf of her job at the nonprofit organization We Got Ya'll, that helps at-risk youth, Issa handles the rude questions from the kids like a pro albeit awkwardly. She also has some realistic girl talk with her best friend Molly regarding her stagnant relationship with her boyfriend Lawrence and caps off the episode with some freestyling at an open mic night to impress her crush Daniel, while humiliating Molly in the process.
Issa: "Black women aren't bitter, they're just tired of being expected to settle for less." [Issa addressing the kid's questions about her personal life as she attempts to give a presentation for We Got Ya'll]
Issa: "I'm starting to resent him. Like I spent my entire 20's with a guy I'm not even gonna end up with."
Molly: "I mean, well you're still 29, you have one more year."
Issa: "Bitch, you're right. I don't have time for the bulls**t anymore.
Molly: "What are you saying?"
Issa: "I'm breaking up with him to-night!"
Molly: "Bitch, no you not."
Issa: "You right, I'm not."
[Issa & Molly leaving the Ethiopian restaurant on Issa's birthday]
Issa: "Maybe it's dry as hell, maybe it really smells. Broken p***y. Maybe it's really rough, maybe it's had enough. Broken p***y."
[Issa rapping her song 'Broken P***y' at open mic night to impress Daniel]
Issa: "Why you assuming I like Drake?"
Daniel: "Every black girl that went to college likes Drake."
Issa: "He just really gets us."
[Issa & Daniel in the car after hanging out at the club]
Issa: "Bitch, you still mad?"
Molly: "Bitch, you still trippin'?"
[Issa showing up to Molly's house to apologize after they have an argument]
Episode 2 – 'Messy As F**k': Still upset that he forgot her birthday the day before, Issa spends the bulk of the second episode avoiding him, while staying at Molly's house. The two BFFs have a girl's pamper day in an attempt to forget their problems. The hilarious encounter between Issa and Lawrence as they run into each other at the Rite-Aid while Issa is buying underwear is one of the funniest of the season, as well as Issa role-playing her conversation with Lawrence in the bathroom mirror.
Molly: "You gotta f**k a lot of frogs to get a good frog."
Issa: "That's not the saying. Or any saying."
[Issa & Molly at the nail salon discussing Molly's dating issues.]
Lawrence: "Are you buying panties?"
Issa: "Why are you being all loud?"
Lawrence: "Why are you buying six-pack?"
Issa: "It's not like it's the cute kind!"I
ssa: "…We are not about to be the black couple fighting in Rite-Aid."
Issa: "…I can't talk about this right now, I gotta go."
Issa: "Lawrence wait. Can I get your Rite-Aid card for a discount?"
[Issa & Lawrence arguing in Rite-Aid after bumping into each other after a fight]
Issa (as Lawrence): "So where you put all my s**t?"
Issa: "In a box, to the left."
Issa: "Uh ah ha ha. It's like a jungle sometimes n***a."
Issa (as Lawrence): "So you know Imma take all my DVDs?"
Issa: "Don't nobody want yo Steve Harvey box set."
[Issa role-playing a conversation w/ her & Lawrence in the mirror before she goes back home]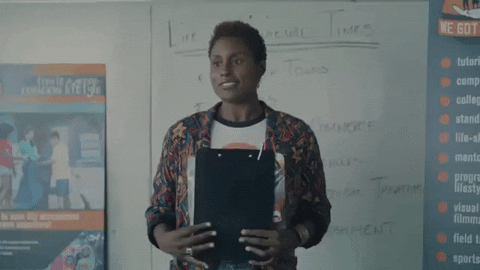 Episode 3 – 'Racist As F**k': The perfectly titled third episode is mostly about Issa's struggles at work, as she attempts to assert herself and plan a special outing for the kids at We Got Ya'll, while dealing with the increasing shadiness and racist BS from her co-workers. The most memorable exchange during the episode involves her co-worker Ken, who wonders about the stereotype of black people not swimming.
Ken: "Why don't more of them swim?"
Issa: "Slavery."
[Issa to her co-worker Ken at the We Got Y'all beach day for the kids]
Episode 4 – 'Thirsty As F**k': Issa and Lawrence are officially back on track as the fourth episode begins, but things get a little complicated when Daniel shows up to apologize for his comments in the first episode. Career Day for We Got Ya'll is approaching and they need a speaker for people who work in the Arts, prompting Issa's co-worker to suggest Daniel because he's a music producer. He's a hit with the kids, but Molly worries that he's temptation that's entirely too close to home.
Issa: "Daniel knows I'm with Lawrence."
Molly: "Do you?"
[Issa & Molly talking in the bathroom at Career Day about Daniel being there]
Episode 5 – 'Shady As F**k': This is the turning point in the series, where the choice that Issa makes alters her world forever…and his name is Daniel. She isn't the only one that's shady though, as it seems to be going around. Some of the best parts of this episode are in the unspoken moments, but there are a couple of standouts that speak to how others view Molly's and Lawrence's attitude in their respective relationships.
Chad: "So what about you and ol girl?"
Lawrence: "Oh we good."
Chad: "Last time I talked to you, you told me you didn't give a f**k about her."
Lawrence: "No, I told you I f**ked up her birthday."
Chad: "It's kinda the same thing though."
[Lawrence talking to his best friend Chad about Issa while they're at lunch]
Chris: "It seemed like tonight was really important to you and I didn't want you to be embarrassed."
Molly: "Uh, "this" is embarrassing."
Chris: "Look, I just got the sense that (and don't take this the wrong way) you really needed a 'win'."
[Molly & Chris talking at her co-worker Diane's engagement party, after he shows up to surprise her as her date, stressing that he's not her boyfriend]
Episode 6 – 'Guilty As F**k': Overcome with guilt regarding what happened with Daniel, Issa is committed to putting it out of her mind and moving forward with Lawrence by going out for date night. However, that's easier said than done, as flashbacks nearly stop her in her tracks. The funniest moment is when Issa and Molly are on the phone as Molly attempts to cook for her potential bae Jared…shout out to the Chrissy Teigen cookbook!
 Molly: "Chrissy Teigen has a dope a** cookbook."
Issa: "Are you in the kitchen? Please get the f**k out."
[Molly & Issa on the phone talking about her (lack of) cooking skills]
Episode 7 – 'Real As F**k': Everybody gets real in the penultimate episode of the season and there are hurt feelings all around. Things may seem to be going smoothly in the episode's first half, however by the second half, it's a verbal bloodbath and Issa, Lawrence, Daniel and Molly are front and center. Everyone's dirt is revealed, as honesty is served as brutal as can be. There are many quotables, so let's dive in.
Daniel: "I just wanted to look you in the eye and ask you why you would treat me like some random a** n***a."
Issa: "You were just an itch I needed to scratch."
Daniel: "Wow."
[Issa & Daniel talking at the We Got Ya'll fundraiser (which she didn't know he was coming to) about having sex and her avoiding him since]
Issa: "I made a mistake, but at least I can see the s**t that I do wrong."
Molly: "Well what do I do wrong Issa?"
Issa:"Do you really wanna know?"
Molly: "Please tell me."
Issa: "Have you noticed Molly, that the common denominator in all your 'can't find a man' bulls**t is you? Yeah, let's do the n***a rundown Molly. One minute he's too thirsty, the next minute he's too distant. The next he's too gay. And then when you find someone you actually like, you ruin it by doing to f**king much. You act like finding someone is supposed to be some sort of fairytale, but it's not. You're impossible to please."
Molly: "…You f**ked another man, when your man was fixing his s**t for you! Bitch, you don't even deserve Lawrence."
Issa: "Are you mad that I can actually keep a n***a?"
Molly: "F**k you Issa."
[Issa & Molly having a huge fight at the We Got Y'all fundraiser about their respective relationships]
Lawrence: "Who's Daniel?"
Issa: "Hmm?"
Lawrence: "Daniel? He was there tonight, right?"
Issa: "Yeah, we went to high school together and he volunteered at that Career Day we had and he did a music presentation for the kids, so they must have invited him."
Lawrence: "Did you f**k him?"
Issa: "What? Why would you ask me that?"
Lawrence: "Cause I am. Did. You. F**k. Him?"
[Lawrence asking Issa about her relationship with Daniel, after he saw them arguing at the We Got Ya'll fundraiser and remembering a text message he saw from him on Issa's phone]
Episode 8 – 'Broken As F**k': The first season comes to an end, with broken hearts all around…but first Issa and her girls (Molly, Tiffany and Kelly) head to Malibu to celebrate Kelly's 30th birthday in style. With Issa and Molly still on the outs, the trip starts out very chilly between the two. However, Kelly offers up the best comic relief of the episode, perhaps to brace us for that final scene with Lawrence and Tasha that had all of social media gasping for air in shock. You know the scene we're talking about!
[Issa, Molly & Tiffany sing 'Happy Birthday' to Kelly]
Kelly: "Y'all know I wished for dick!"
 Guy dancing with Kelly: "Are you Jill Scott? You look just like Jill Scott."
Kelly: "And you look just like 'Twilight'."
[Kelly dancing with a white guy at the club]
Kelly: "Why you get me upset for no reason?"
Issa: "I'm sorry for making this about me."
Kelly: "Make it about 'it's my birthday.' It can be about you if you get hit or have a baby."
Issa: "Do you listen to yourself?"
Kelly: "All the time, I have a podcast."
[Issa & Kelly over breakfast discussing Issa's relationship with Lawrence]
Tiffany: "I taste stone fruit."
Molly: "And a little bit of pepper."
Issa: "I taste wine."
[Issa, Molly & Tiffany wine-tasting in Malibu]
Catch Insecure Sunday night on HBO.
DON'T MISS:
Hella Lit: HBO Releases Official 'Insecure' Season 2 Trailer
BET Experience: Yvone Orji Talks 'Insecure' Season 2 + Sevyn Streeter & More
Issa Rae Channels Pam Grier In Bad Ass Complex Cover
Best Quotes From "Insecure" Season One  was originally published on hellobeautiful.com