Well, I guess eight years beats 30, right? Apollo Nida, husband of "The Real Housewives of Atlanta" star Phaedra Parks is headed back to prison on fraud charges – for eight years. Someone please cue Usher "Papers." If this isn't enough for Phaedra to show him to the door, nothing will.
This reality TV jailbird has given this southern belle more than one reason to leave him, but here are three that should be enough to file for divorce, and figure out how she wants to co-parent upon his release.
RELATED: Real Housewives Of Atlanta Husband Sentenced
1. Apollo Ain't Loyal!
Let's keep it real. We all saw how inappropriate both Kenya Moore AND Apollo Nida behaved on "The Real Housewives of Atlanta."  From the texts to hotels, Apollo claims he could've slept with Kenya Moore if he wanted to. Bruh, you wanted to!
And if not Kenya Moore, then it would be some other chick down the road. He said it himself. Apollo strongly stated on the last episode of season 6, "all people cheat." While I loved Phaedra's legendary read she gave Kenya on "The Real Housewives of Atlanta" season six reunion show, she might want to give an even better read to her husband who apparently thinks cheating is okay in a marriage.
RELATED: Apollo Wants Phaedra To Be His Ride-Or-Die Chick If He Goes To Jail
2. He's Messing Up Phaedra's Checks
It was previously reported Phaedra was going to get a spin-off show, but it was postponed because of Apollo's legal issues. That's one check she can say good-bye to. At the end of the day, this could hurt Phaedra's business. She's a lawyer married to a convict. Where they do that at?
People already were speculating if she had any involvement with his shady business. Not to mention, Apollo never really had a legitimate job since his last release from jail. What do you think he will do when released next time? Live off his reality TV star wife's money. Either way Phaedra's money is in jeopardy.
RELATED: Apollo Nida Pleads Guilty To Fraud, Blames Wife Phaedra Parks
3. Hello… He Just Got Sentenced To Eight Years in PRISON!
I'm all for the ride-or-die chick, but not when your man is going to prison for eight years for a crime he did in fact commit. Not to mention he already has a record. So Phaedra is supposed to live eight years as a single mom, ignore other good men that  may come her way, and wait for Apollo to what…. come out of jail so they can live happily ever after? Phaedra should get smart and pass on that unlikely fairy tale.
Phaedra has some tough decisions to make. Although the decision seems clear, it will be interesting to see what she does, and if it will play out on the next season of "The Real Housewives of Atlanta." All I have to say is: "Fix it Jesus."
RELATED: Did Apollo Nida From "The Real Housewives Of Atlanta" Implicate Himself On The Show? [EXCLUSIVE AUDIO]
Thanks Phaedra: 16 'Fix It Jesus' Moments In Pop Culture
1. Solange vs. Jay Z
1 of 30
2. Fix It Jesus!
Source:
2 of 30
3. Fix It Jesus!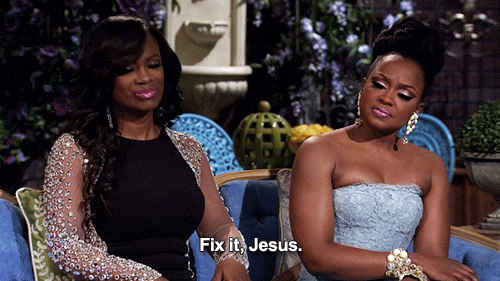 Source:
3 of 30
4. Fix ME Jesus!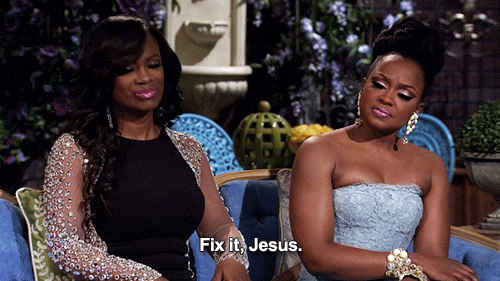 Source:
4 of 30
5. Rita Ora's Baby Hair
5 of 30
6. Fix It Jesus!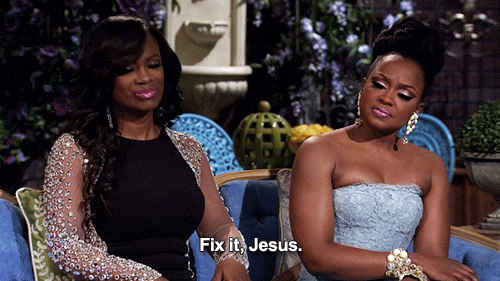 Source:
6 of 30
7. Columbus Short's Violent & Crazy Temper
Source:
7 of 30
8. Fix It Jesus!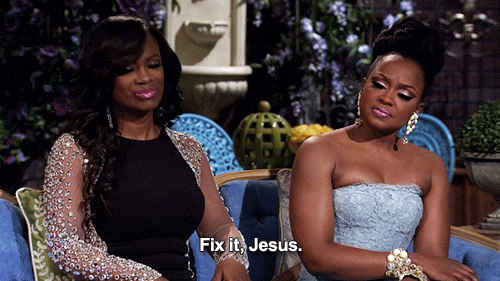 Source:
8 of 30
9. Willow Smith Laying With A Grown Man
9 of 30
10. Fix It Jesus!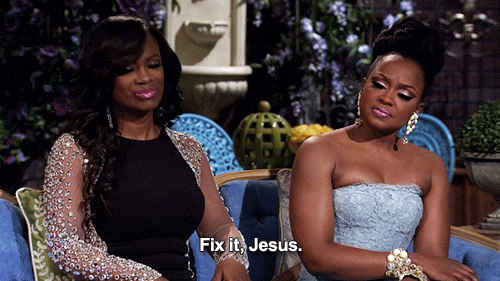 Source:
10 of 30
11. Fix It Jesus!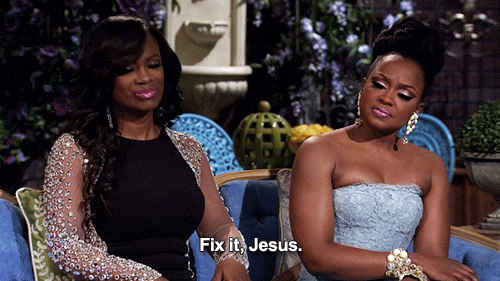 Source:
11 of 30
12. Lupita's Entire Met Gala Look
12 of 30
13. Fix It Jesus!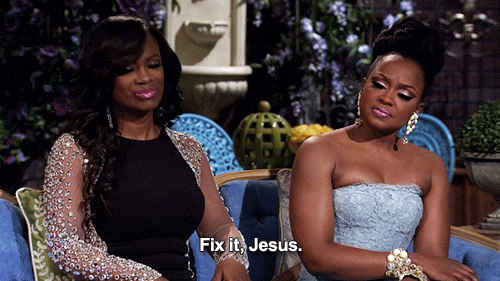 Source:
13 of 30
14. Miley Cyrus's Bangerz Show
14 of 30
15. Fix It Jesus!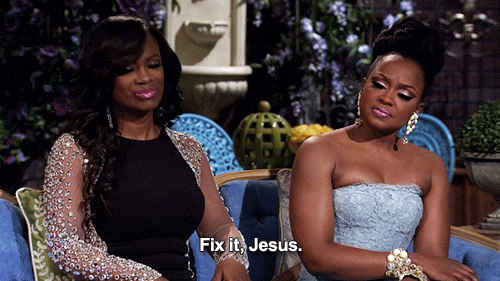 Source:
15 of 30
16. Gabrielle Union's Met Gala Dress
16 of 30
17. Fix It Jesus!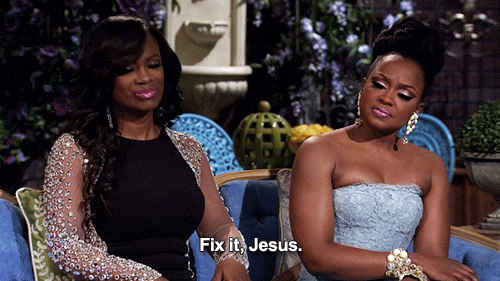 Source:
17 of 30
18. Solange's Entire Met Gala Look
18 of 30
19. Fix It Jesus!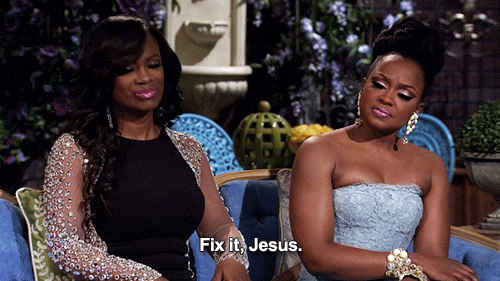 Source:
19 of 30
20. Everyday I'm Shoveling
Source:
20 of 30
21. Fix It Jesus!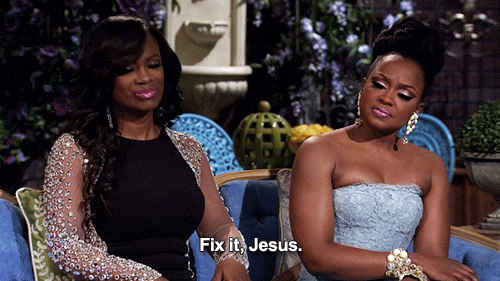 Source:
21 of 30
22. Rihanna's Risque Lui Cover
22 of 30
23. Fix It Jesus!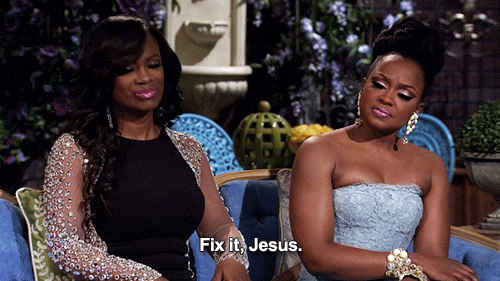 Source:
23 of 30
24. Fix It Jesus!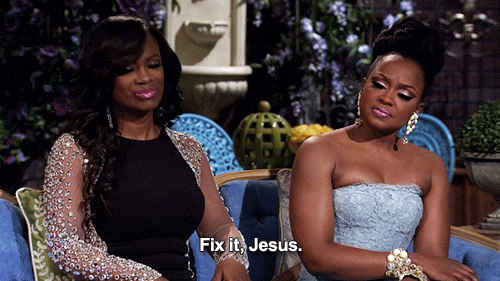 Source:
24 of 30
25. Mimi & Nikko's Sex Tape
25 of 30
26. Fix It Jesus!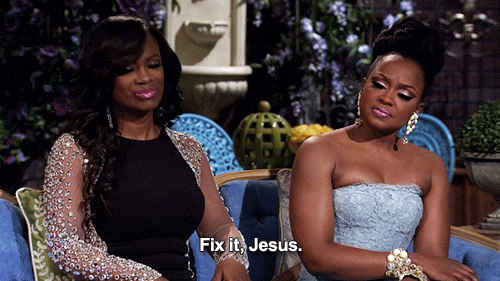 Source:
26 of 30
27. Apollo Pleads Guilty
27 of 30
28. Fix It Jesus!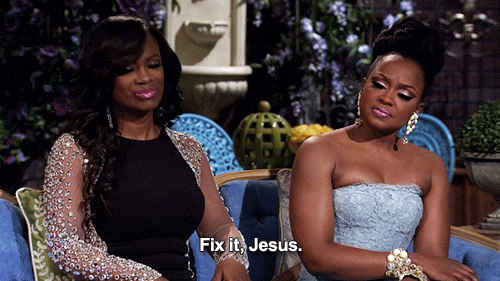 Source:
28 of 30
29. V. Stiviano's Ridiculous Visors
29 of 30
30. Fix It Jesus!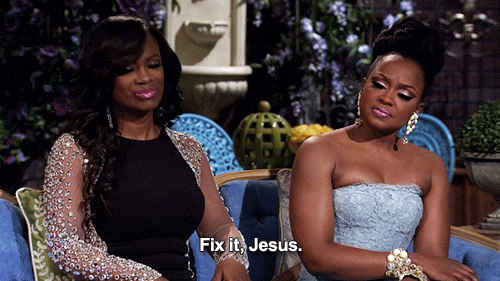 Source:
30 of 30
More From Rickey Smiley Show